cyclopaedia.org
BIBLIA GRAECA 1709
Title: He Palaia Diatheke Kata Tous Ebdomekonta. Vetus Testamentum Ex Versione Septuaginta Interpretum, Secundum Exemplar Vaticanum Romae editum, Accuratissime denuo recognitum, Una cum Scholiis eiusdem Editionis, Variis MStorum Codicum Veterumque Exemplarium Lectionbus, nec non Fragmentis Versionum Aquilae, Symmachi & Theodotionis

Publisher: Franciscus Halma, Franeker, Netherlands

Edition Date: 1709

Language: Greek and Latin

Notes: 4to. In 2 vols. 23 leaves including engraved title, half-title to the 2nd volume, 1326 p., blank leaf, one folding plate, 4 folding maps, text in red and black.

The famous Septuagint edition of Lambertus Bos, Professor of Greek at Franeker University, who for five years toiled on the preparation. The text is based on the Rome 1587 edition, and is conspicuous for its clear typographical presentation: printed in two columns in a well-leaded ligatured Greek, with the verse divisions clearly separated by a blank space, it is a pleasure to read. Footnotes of varying length (usually one fifth of the printed page) give the more important different readings. The illlustrative material is added to the work without comment: Descriptio Paradisi et terrae Canaan (p. 2), Totius orbis terrarum tabula ... per J. Moxon (p. 10), Tabernaculi constructio et vasa sacra (p. 104), Tabula geographica Terrae Sanctae auctore Bonfrerio (in two sections, p. 300), and Vera Hierosolymae veteris imago, a fine bird's eye view / map of the Eternal City (p. 652). Darlow & Moule 4726, Brunet I 864.

This reprint of the Sixtine text, 1587 served as a copy for many later editions. Transliterated from the Greek; text printed in double columns with critical apparatus at foot of page. "The Prolegomena in Latin contain many just critical remarks on the preceding editions of the Septuagint." [see: Orme, William, BIBLIOTHECA BIBLICA p.55]. DARLOW and MOULE no.4726. Dibdin says "It is professed to be formed on the Roman edition of 1587; but according to Breitinger it rather copies the Paris edition of 1628, and the text of Walton"s Polyglot."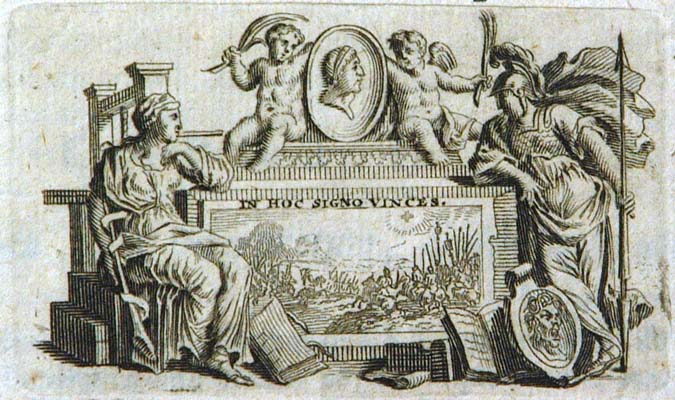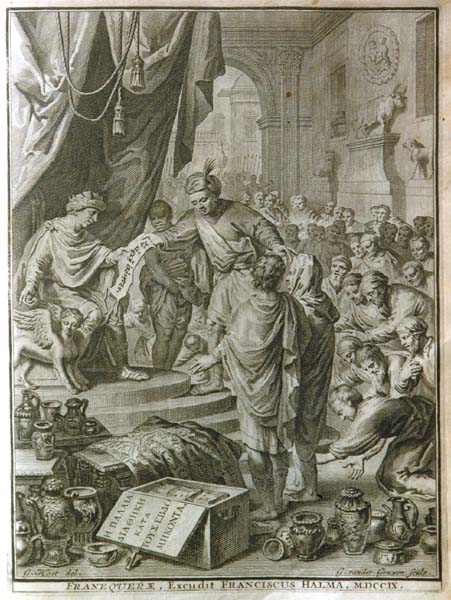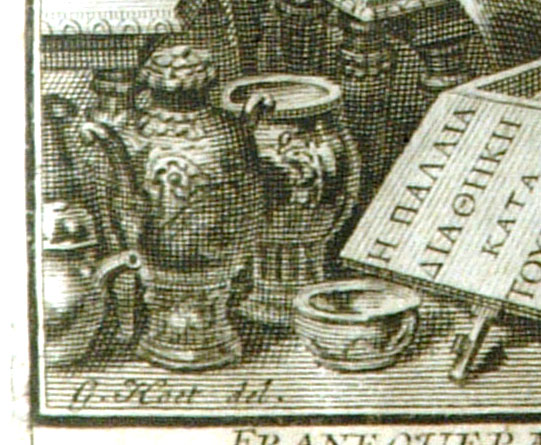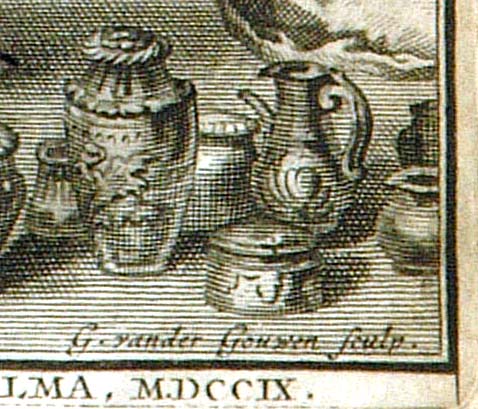 Engraved Title Page Art by Gerard Hoet, Dutch painter and draftsman, 1648-1733), engraved by Gilliam van der Gouwen (1669-1713) a Dutch engraver and mapmaker, active in Anvers and Amsterdam.

These artists are famous for their combined works and particularly those found in the "print-bible" of Pieter de Hondt (of the Hague, 1728) -- one of the finest series of Bible prints in the 18th Century. The best artists of the day worked on the New Testament plates including Picart (1673-1733), Hoet (1648-1733), and Houbraken (1660 -1719)

See Page 2: Folding Plates