cyclopaedia.org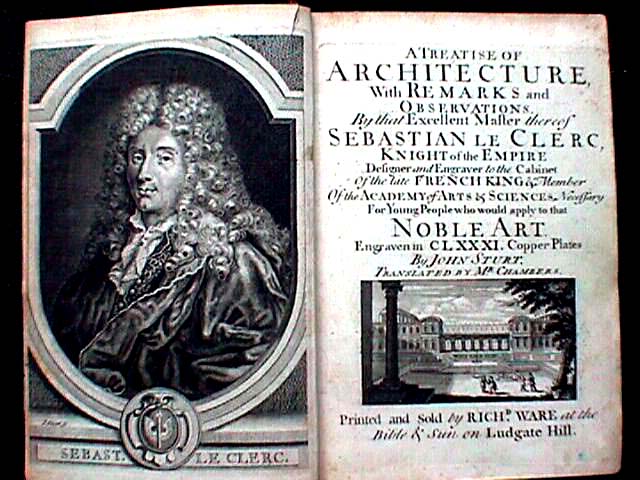 The Titlepage and Frontispiece from a 1734 edition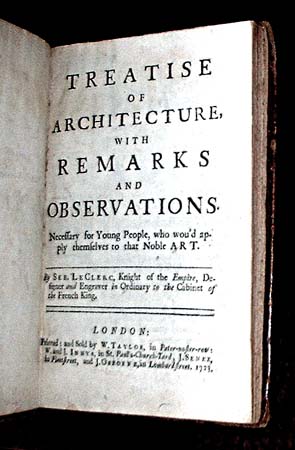 Titlepage, 1723 edition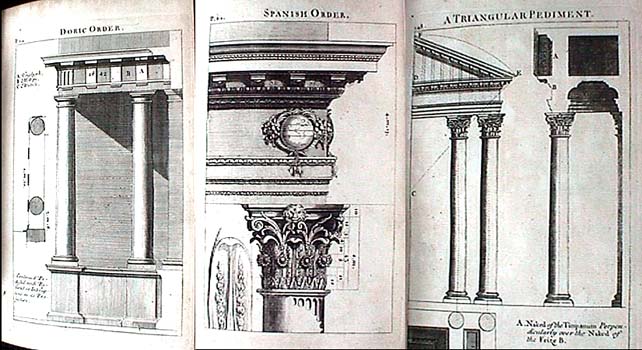 Main Author: Le Clerc, SÈbastien, 1637-1714

Title Details: A treatise of architecture, with remarks and observations : Necessary for young people, who wou'd apply themselves to that noble art. By Seb. Le Clerc

Publisher:London: printed: and sold by W. Taylor: W. and J. Innys; J. Senex, and J. Osborne, 1723-24

Physical desc.: 2v., plates : port ; (8vo)

Note: The second volume has an engraved titlepage: 'A treatise of architecture with remarks and observations. By that excellent master thereof Sebastian Le Clerc ... Engraven in two hundred copper plates by John Sturt. Translated by Mr. Chambers' with the imprint: Sold by Mr. Bateman and Mr. Taylor. Will and John Innys. Mr. Osbourn, Mr. Senex. Mr. Sam. Tooke & Mr. Ben. Motte. And John Sturt. London 1724. - It contains a frontispiece, an engraved dedication and 181 plates. - First published in French in Paris in 1714

I actually found a copy of this work available online and the bookseller notes it as being: "....translated by Ephraim Chambers with plates engraved by John Sturt. Its popularity over the next twenty-five years was due to its being the only systematic treatise in English on the decorative part of architecture, ornaments, mouldings, arches, doors, and the like. Copies were found in early America. It was in the libraries of Peter Harrison of Newport and the Salem Library Company, Massachusetts."